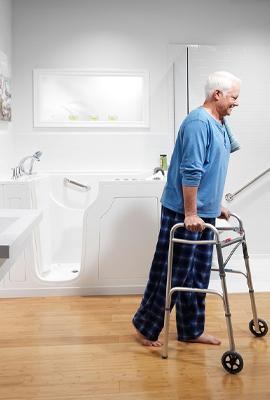 Walk-in Tubs in Raleigh, NC
As people age, they typically don't have the flexibility and balance that they once did in their youth, which can affect a range of activities that they engage in.
One possible solution that is worth exploring is replacing the tub in your Raleigh, NC, bathroom with a walk-in tub, and our team at Luxury Bath can help explain all of the details about them.
Luxury Bath is the sister company to HomeCraft Windows, and we work together on many projects for homeowners including bathrooms. Talk with our experienced team to see if a walk-in tub is right for your needs.
Aging In Place Includes Bathrooms in Raleigh
More and more people are choosing to remain in their homes as they get older, and this aging in place means that homeowners are looking for ways to modify their homes to accommodate this new phase of life. The bathroom is no exception to these aging-in-place changes, which is why we are seeing an increase in the interest in walk-in tubs as well as bathroom conversions. Both offer homeowners increased safety while adjusting their bathrooms to better suit their needs.
Walk-in tubs are desirable for several reasons. The first is obvious because it has a swinging door that seals tightly when closed so that water doesn't leak out. This makes it easy for users to get into and out of the tub. Because there is no concern about someone having to climb over the tub wall, the walls of walk-in tubs are also taller, meaning that you can have a deeper bath or even sit on a stool in the tub without it overflowing.
Other Walk-in Tub Benefits in Raleigh, NC
Some walk-in tubs can have hydro jets in them, providing for gentle water massage. Most walk-in tubs also feature many features built-in that would otherwise be separate purchases for a normal tub, such as integrated seating, grab bars, and more. When you are looking at aging-in-place modifications for your Raleigh, NC, home, contact us at Luxury Bath and we can help you decide on the best walk-in tub for your needs.
Raleigh was chosen as the site of the new capital in 1788, as its central location protected it from attacks from the coast. It was officially established in 1792 as both county seat and state capital. In 1799, N.C. Minerva and Raleigh Advertiser was the first newspaper published in Raleigh. In 1922, WLAC signed on as the city's first radio station but lasted only two years. WFBQ signed on in 1924 and became WPTF in 1927. It is now Raleigh's oldest continuous radio broadcaster.