Duralite Spacer
What is it and how does it work?
Modern energy-efficient replacement windows have multiple panes of glass. Double pane windows are most commonly utilized, and there are also windows with three panes available. The panes are treated with a low emissivity coating on all surfaces. This Low-E coating reflects heat outward during the summer, and it contains indoor heat during the colder winter months. There is either argon or krypton gas between the panes, and there is a tight seal that creates an airtight cavity that contains the insulating gas.
There is a spacer in the window that separates the panes. In addition to the function of holding the window panes in place, the spacer serves a few other purposes. The spacer adds to the structural integrity of the window, and it buffers the stress that comes with thermal expansion. It can also improve sound reduction making them more noise and sound resistant. Spacers are coated with a desiccant that absorbs moisture, and this substance limits condensation.
Duralite Materials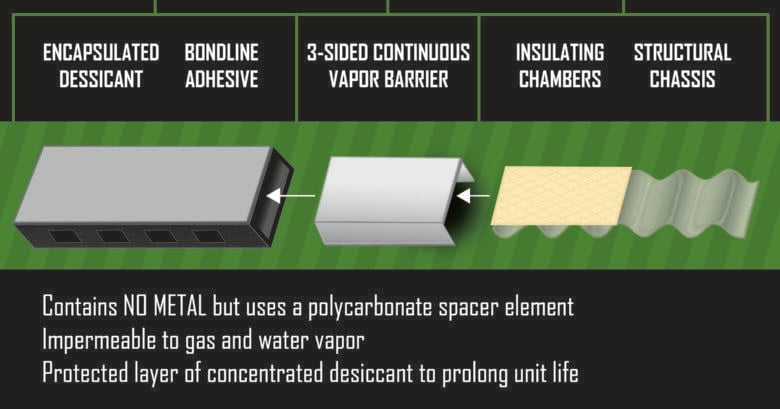 Spacers can be made with different materials. Aluminum, stainless steel, and galvanized steel are often used, but metal spacers conduct heat, and this reduces the energy efficiency. This can be avoided through the utilization of the groundbreaking, cutting-edge Duralite® spacer system. There is no metal used in the production of these spacers, and most of the spacer profile is replaced by air. This results in a conductivity reduction that can be as high as 45 percent.
The Duralite® spacer system is very widely accepted within the industry at this point. More than 350 manufacturers have embraced the Duralite® concept in over 60 countries. Approximately one-fourth of all ENERGY STAR® approved windows have Duralite® spacers.
Get a Quick Quote for Your Window Replacement Needs Now
Complete Guide to Window Replacement: Next Step
Window Replacement FAQ