Block Windows and Window Replacement in Raleigh – Durham and all of North Carolina
(Acrylic Block / Glass Block)
Let the sunshine in with beautiful and affordable acrylic or glass block replacement windows from Home Craft Windows. You'll be amazed how even a small amount of glass block can transform your home or garage from dark to vibrant. And you'll enjoy your investment for many, many years with our installation and warranty. Home Craft Windows has been providing North Carolina with glass block windows and all other window replacement needs for three decades. Call us today for a free consultation on how we can let more sunshine in for you!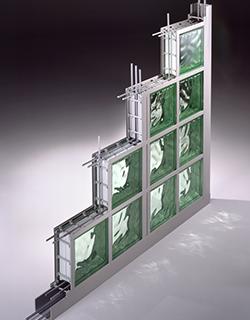 Thick, break resistant glass or acrylic block replacement windows, when installed by the professionals of Home Craft Windows, creates a nearly impenetrable barrier. No more storm windows! Home Craft glass or acrylic block windows offer the insulating efficiency of double pane glass, and come in opacity selections like wavy, diamond, ice, clear, and frosted, depending on your needs for privacy. You can start saving money on your maintenance, heating, and cooling right now with glass block replacement windows – there's no caulking, puttying, or painting, and there's never any rust!
Glass block windows have several great applications, like basement window, showers, wet bars, indoor/outdoor areas, garages, and more. We've worked with homeowners who have replaced entire walls with glass block windows, radically changing the interiors of their homes with the amount of natural light shining in. We use high quality materials, solid mortar joints throughout, and waterproof cement so your new windows are nearly maintenance free.
For example, replacing your existing basement or garage windows with new glass block windows from Home Craft is one of the most cost effective and value-added upgrades you can make to your home. These areas are usually less insulated against temperature changes than the rest of your house, so closing the energy leaks with improved, high efficiency glass block windows is a cheaper alternative. For so many reasons – security, privacy, thermal efficiency, and sound proofing – window replacement with glass block windows is a great upgrade!