Bay & Bow Windows and Window Replacement in Raleigh – Durham and all of North Carolina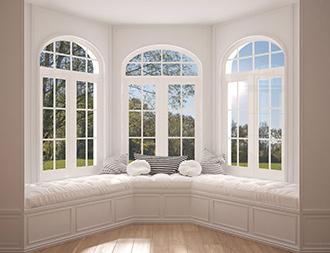 Bay & Bow Windows and Replacement Windows in North Carolina
Widen your view of the world with a bay or bow window from Home Craft Windows. Bay windows are a series of three windows that extend outwardly from the house, and bow windows are a sequence of four to six windows that are all the same size and form a gentle arch. Whether you are designing a new home or are looking for replacement windows, a bay or bow window brings the outside in.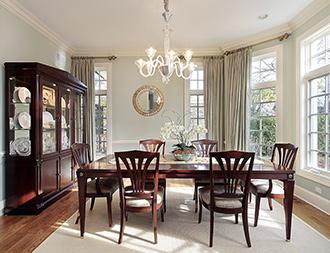 Bay and bow windows are amazing additions to any room for a spacious feel. With three decades of experience and counting, Home Craft Windows provides the best quality service available to our customers, and our unparalleled warranty backs our claim to fame. We have the best selection and window replacement service in North Carolina.
Bring the outside in. Bay windows add dramatic architectural interest to your home's exterior while adding dimension and light to its interior. The graceful curve of a custom made to order bow window is a dramatic and cost effective value add to home renovations. Bay and bow replacement windows from Home Craft add dynamic beauty to any room by creating charming spaces like a reading or breakfast nook, or a place to display décor. The possibilities for use of a beautiful new bay or bow window are endless. No matter how you utilize your expanded space, you'll enjoy the view.
Home Craft bay and bow windows are energy efficient and come in a variety of glass types to help curb cooling costs during our hot and humid North Carolina summers and cool winters. And like all windows from Home Craft, they carry an unbeatable warranty and are installed by the best in the industry, crafted for a lifetime of maintenance free enjoyment. Give us a call today and let us open up your view of the world with a world class bay or bow window.