Bathroom Remodel in Raleigh, NC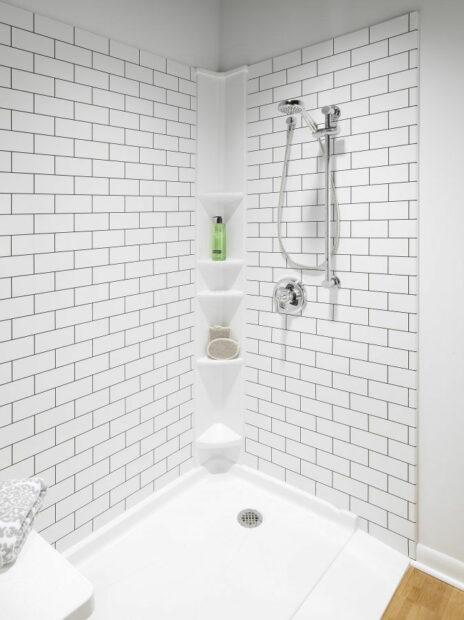 Your bathroom is one of the most used rooms in your home, so it makes sense that after a while you would be interested in doing a bathroom remodel project at your Raleigh, NC, home.
When you are ready to tackle that bathroom remodeling project, look to the professionals at Luxury Bath of Raleigh.
Luxury Bath is the sister company to HomeCraft Windows, and they work together to bring about your remodeling dreams to your home's bathroom.
Bathroom Remodeling with Bathroom Conversions in Raleigh
When talking about bathroom remodeling, one area that gets a lot of attention is the tub area. This is not unusual since a significant portion of the time spent in your bathroom is in this area. In fact, this is so common that the phrase bathroom conversion is used, and this often means that you are converting the tub area to a shower instead. Often the shower is kept the same size as the tub and is considered an upgrade by many to have such a large shower option.
While many might consider this a luxury move, often it is done for safety reasons as well. As people age, their balance can become a concern, and not having to step over the wall of a tub can be very appealing and safer. A bathroom conversion can transform the entire room and make it seem larger than it is as well.
Bathroom Remodel and Shower Makeover Services in Raleigh, NC
The shower in your bathroom might be due for an update as part of your bathroom remodel. This could be a great time for a shower makeover to change the tile in your shower, add convenient cubbies for shampoo bottles, or make other improvements. If your bathroom has a tub, you may want to opt for a new walk-in tub that eliminates having to step over the side of the tub. Whatever you are looking to do with your bathroom remodel, our team at Luxury Bath can provide you with all of the different options available. Contact them today to get started with our experienced team.
Raleigh is one of the few cities in the United States that was planned and built specifically to serve as a state capital. Its original boundaries were formed by the downtown streets of North, East, West, and South. The plan, a grid with two main axes meeting at a central square and an additional square in each corner, was based on Thomas Holme's 1682 plan for Philadelphia. The city was originally laid out in a grid pattern with the North Carolina State Capitol in Union Square at the center. In 1808, Andrew Johnson, the nation's future 17th President, was born at Casso's Inn in Raleigh.
A railway depot was established in 1849 on land donated by Bartlett S. Durham, the namesake of the city. Following the American Civil War, the community of Durham Station expanded rapidly, in part due to the tobacco industry. The town was incorporated by an act of the North Carolina General Assembly, in April 1869. A U.S. post office was established at the site of the railroad station on April 26, 1853, now recognized as the city's official birthday. Durham was known as Durham Station for the first 20 years of the town's existence.
Contact us for a quote on bathroom remodeling in Durham, NC.