How Do New Windows Add Value to Your Home?
Window Replacement in Raleigh, Cary, Apex, Durham, Chapel Hill, and Knightdale – Is it a Good Investment?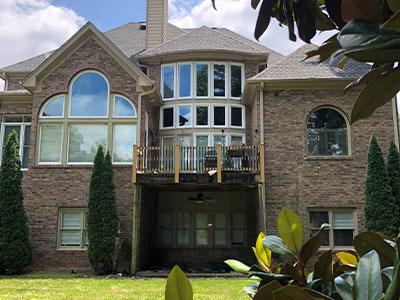 Your home is likely the most significant investment you'll ever make, so it's only natural that you want improvement projects that raise its value.
You probably already know that a window replacement adds value. What you might not know, however, is how much return on investment (ROI) to expect or why new windows increase your home's value. Don't worry because our experts at HomeCraft Windows are here to share some professional insight and help make your future investments cost-effective and fruitful.
So, how do new windows add home value? Improved aesthetics, noise reduction, maintenance requirements, home comfort, safety, and improved energy efficiency are all amazing benefits to window replacement that add value to any home.
Energy-Efficient Windows and Noise-Resistant Windows
From energy savings to improved comfort, here are the top reasons why replacing your old, outdated windows will always improve your home value:
Aesthetics: The most apparent benefit of new interior and exterior windows is visual appeal. If your windows look drab and old-fashioned, we can provide a wide variety of color, style, and material options to suit your current needs.
Noise reduction: Sound-resistant windows can help block out environmental noise and give you a more restful and relaxing indoor space.
Maintenance requirements: Today's windows are incredibly low-maintenance. Spend less time cleaning and more time admiring the view through your beautiful wood, aluminum, or vinyl windows.
Better comfort and safety: With new, well-sealed windows, you can reduce the hot and cold spots in your home and keep airborne allergens out.
Improved energy efficiency: Replacing your single-pane windows with energy-efficient windows will reduce the wear on your cooling and heating system and lower utility costs.
Impact-Resistant Windows
Replacement windows are one of the best home improvement projects that improve value. In fact, the most recent report from Cost vs. Value shows that new vinyl windows can return you over 68.6% of the project cost upon resale.
Keep in mind that your exact ROI depends on several factors like the kind and number of windows you replace, your local housing market, and the window contractor with whom you partner. We at HomeCraft Windows take great pride in being one of the most trusted window replacement companies in Raleigh, Cary, Apex, Durham, Chapel Hill, Knightdale, and the surrounding areas.
Whether you want impact-resistant windows, double-hung windows, or ones that increase energy efficiency, no job is too big or small for our experts. Contact us and start planning your window replacement today!
Get a Quick Quote for Your Window Replacement Needs Now