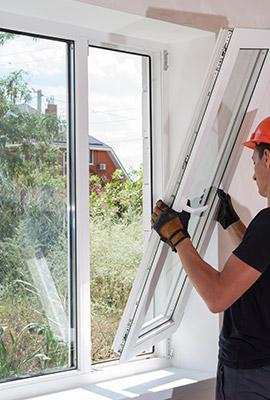 Window Replacement Companies in Raleigh, NC
Your windows have an important job to do. As your view into the outside world, windows offer your home style, beauty, and functionality. If your windows aren't doing their job, then it may be time for replacements.
At HomeCraft Windows our experiences and passion set us apart as one of the best window replacement companies in Raleigh, NC, and the surrounding areas. If you're looking for quality window replacements for your home, then you're in the right place.
Why Window Replacements?
Deciding to replace your windows is easy when you have a break or crack. However, if your windows are more than 15-20 years old OR if you're experiencing any of the following symptoms, then it may be time to replace your windows ASAP, and we can help!
If your windows are showing one or more of these signs, then it's time for a replacement:
Noise – As surprising as it may be, noise is an indication that it's time to replace your windows. Your home is a haven, if outdoor noise is ruining your indoor environment, you should look into a replacement.
Drafts – If you feel an outdoor draft, even when your windows are closed, it's time for a replacement. Drafts are not only uncomfortable but can increase your energy consumption.
Damage – It may be time for window replacements if you can see visible damage on your windows. From soft frames, chips, mold, etc. this can be a sign of water damage that needs to be addressed immediately.
Working with the best suppliers in the nation, there's a reason why we're considered one of the top window replacement companies in the area. Get in touch with us to learn more!
Window Replacement Companies for Raleigh, NC
Known as a university town, Raleigh, North Carolina has a number of technological institutions. But more than its scholarly institutions, Raleigh is a great place to live. With an urban and suburban feel, Raleigh is home to single professionals and families looking to settle down in one of the best places to live in the state. From restaurants, shops, nature, and more, there's something for everyone in Raleigh, North Carolina.
At HomeCraft Windows we are the preferred choice for window replacement companies in Raleigh, North Carolina, and surrounding areas. Window replacement doesn't have to be complicated, we simplify the process for you, so you can get the most out of your new windows. Our window replacement options for your home include a range of styles including: