Window Replacement Companies in Garner, North Carolina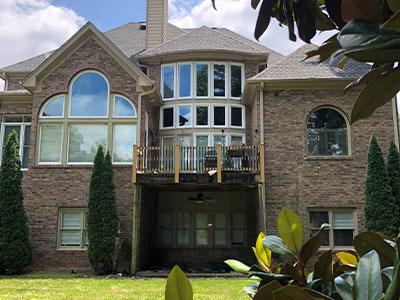 Almost all window replacement companies in North Carolina claim that they have the best products and services available. However, very few deliver on their promise, leaving customers in the hole and in need of new replacement windows in a matter of a few years! At HomeCraft Windows, we deliver on our promise to outshine our competitors as the superior window replacement company for Garner, NC, and the surrounding areas.
Residential Window Replacements for Garner, NC
While other window replacement companies focus on getting in and getting out, we go the extra mile to ensure that all window replacements are achieved with the utmost attention to detail, so the job is done correctly the first time around. Following a meticulous and concise process for window replacements, we back our work with guarantees and a HomeCraft Lifetime Warranty from your premier local window installation company! Our window replacement process includes:
In-Home Consultation
Let our window replacement company come to you! Conducting an in-house assessment we get the proper measurements and provide you with an honest and straightforward quote on projected expenses.
Product Selection
We work with you to find the right replacement windows for your needs. By educating you on our various products, we enable you to make smart and informed decisions on the right windows for your home.
Pre-Site Inspection
Before we get started, we evaluate the worksite with an in-depth inspection to avoid unwanted surprises during the replacement process.
Expert Installation
We install your replacement windows with minimal interruption to your home and routine, ensuring efficiency and proper installation.
Satisfaction
We offer you years of guaranteed beauty, comfort, safety, and efficiency with a HomeCraft Lifetime Warranty!
Get Started!
Contact us today to learn more about our replacement windows and request a free estimate!
Window Replacement Companies in Garner, NC
As a prominent suburb of Raleigh, NC, Garner is a fast-growing community filled with beautiful real estate options and surrounded by the charms of nature. With an attractive and historic downtown area, visitors and residents alike enjoy shops and parks that provide excellent entertainment for singles and families. From the popular Historic Yates Mill County Park to botanical gardens, there's something for everyone in Garner. It's no wonder why the area is known as one of the best places to reside in the nation!
While Garner is one of the best places to live, not all the window replacement companies in the area are the best choice for quality window replacements. At HomeCraft Windows we deliver on our promise of being one of the best places for window replacements and installations in Garner, NC. With a high rating from the BBB and a range of attractive window options from respected manufacturers, we work with you to find the right replacements for your home and your wallet.