Window Replacement Companies for Chapel Hill, North Carolina and Surrounding Areas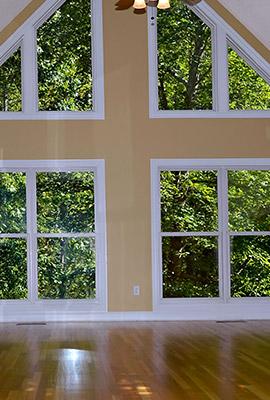 If your window frames are looking tired and worn out, then it's a clear sign that you need window replacements. Another clear sign is poor insulation. Not only do worn-out windows cause poor insulation, but they can increase your monthly energy bill.
If you're searching for the best window replacement companies in Chapel Hill, North Carolina, then you're in the right spot. Our experiences make us the preferred locally owned and operated window replacement choice in the area.
Window Replacements in Chapel Hill, NC
Replacing your windows is an investment. If you're considering a DIY job, then we hope you'll reconsider. Just like any other specialty, window installation must be performed by a professional for optimal results. However, it is a good idea to do a bit of research on your own to understand the procedure before hiring an expert for the job.
Here are a couple of things to consider when replacing your home's windows:
The Perfect Fit
Cookie-cutter windows are never a good idea. At HomeCraft Windows we customize windows to fit your home, not the other way around!
Functionality
Consulting an expert can help you get the most out of your replacement windows. It's not just about the looks, it's about maintenance, durability, and overall functionality.
Safety First
Certain types of windows aren't ideal for your home. We help you find the right materials that keep you and your household safe and secure in the event of an accident or disaster.
Energy-Efficiency
Energy efficiency is an important aspect of window replacements. From temperature control to insulation, energy efficiency reduces energy costs and your carbon footprint.
Best Window Replacement Companies for Chapel Hill, NC
Chapel Hill isn't just known for its university and sports teams. For residents of the area, Chapel Hill is known as an attractive and quaint city; one of the best places to live in the state of North Carolina. By combining small-town charms with a modern flair, this diverse city continues to entice families looking to settle down in a beautiful and safe area.
At HomeCraft Windows we are proud to be one of the best window replacement companies in the Chapel Hill area. Working closely with our clients, we help you select and install the right windows for your home at the right price. Not only do our experience and passion set us apart as one of the best window replacement companies, but so do our warranties, certifications, and affiliations with respected organizations. Call us today to learn more about how we can help you with home window replacements.