Vinyl Replacement Windows in Raleigh, NC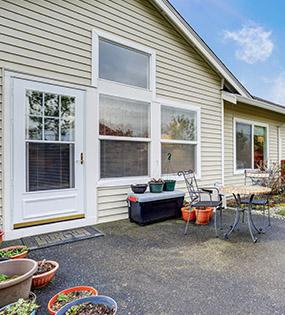 There are many reasons why homeowners choose to replace their windows. Whether your windows are old a decaying, or you're looking to amp up the energy efficiency of your home, vinyl replacement windows provide you with durable energy-saving designs that improve the look, feel, and functionality of your home.
At HomeCraft Windows we provide professional and affordable window replacement and installation services to Raleigh, NC, and the surrounding areas. Working with you to find the right design for your tastes and your home, we ensure that all of our window replacements services are performed with maximum professionalism and minimal disruption to your home.
Window Replacement with Vinyl Windows in Raleigh
Vinyl replacement windows are a durable and affordable alternative to traditional window solutions. Available in a vast range of colors, materials, and sizes, both homeowners and businesses enjoy the many benefits of vinyl window replacements such as:
Durability – Vinyl replacement windows are resistant to peeling and fading, making them a low maintenance window solution that can last for decades to come.
Versatility – Not requiring staining or painting, vinyl windows are manufactured in a selection of styles to fit the aesthetic of your home or business.
Flexibility – Vinyl replacement windows are a flexible window replacement choice that are available in fixed panes, custom shapes, and standard window selection to accommodate your needs.
Affordability – Vinyl windows are an affordable alternative to traditional window replacements. As the most cost effective window solution, you can choose from a selection of affordable styles for any setting.
Double Hung, Custom Vinyl Replacement Windows in Raleigh, North Carolina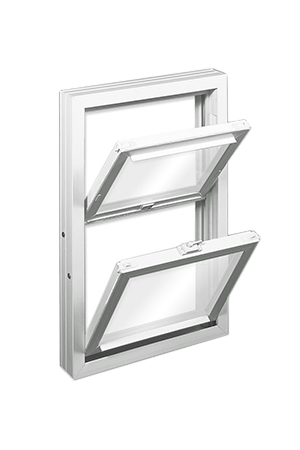 As the lively capital of the state, Raleigh has been named one of the best places to live in the USA. With plenty of affordable living options and a vast range of job opportunities, residents enjoy the quality of life in a city that's surrounded by the natural beauty of North Carolina. Whether you're old or young, looking for work, or looking to buy a home, Raleigh, NC can provide you with exactly what you need.
At HomeCraft Windows we serve Raleigh, NC, and the surrounding areas with a vast range of window installation and repair services. As a leader in vinyl window technology, double hung windows are ideal for homeowners looking to add energy efficiency and ambiance to their homes. If you're looking for double hung custom vinyl replacement windows or looking to add new double hung windows to your home, give us a call! We take care of all aspects of installation so you can enjoy your new windows hassle-free.
If you are in the market for vinyl replacement windows in Raleigh, North Carolina, Home Craft Windows is your go-to resource. We have been serving people in this area for decades, so we are locals who build relationships with our neighbors. People who live here in the capital of North Carolina enjoy a very high quality of life. There is a vibrant economy, a rich historic tradition, and a robust cultural scene. People in Raleigh take a great deal of pride in their homes, and we take our professional responsibilities to our customers here very seriously. Wherever you may live in town, whether it is in Glenwood Village, Six Forks, Wilders Grove, Home Acres, or Bayleaf, we are a Raleigh, North Carolina vinyl replacement window resource that you can rely on for affordable quality.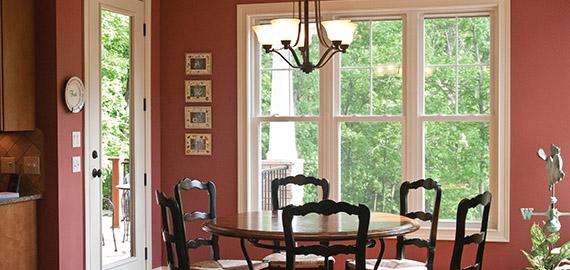 The Benefits of Vinyl Replacement Windows
There are numerous different advantages that can be gained through the utilization of vinyl replacement Windows. Raleigh, North Carolina has a seasonal climate that can reach some extremes during the summer and winter. If you have old, porous windows throughout your home, your energy costs may be going through the roof. When you work with us to replace the stale windows with fresh, state-of-the-art vinyl replacement windows, you will be amazed by the difference. The windows that we provide are powerful thermal insulators, and we offer options that deliver varying levels of energy efficiency.
Another major positive is the abundance of design options that you have when you utilize vinyl replacement windows. They can be molded to fit just about any shape, and they can be ordered with custom colors and finishes. You can beautify your home, and there is very little maintenance involved when you install vinyl replacement windows as a Raleigh, NC homeowner. There is no need for sanding and repainting, and the windows can be cleaned with a simple old-fashioned bucket of soapy water. As you can see, you get the best of all possible worlds when you utilize vinyl replacement windows.
World Class Customer Service!
The products that we install are second to none, but our prices are surprisingly low, so you get optimal value when you work with Home Craft Windows. Our installation technicians are meticulous craftsmen, and our customer care team is knowledgeable, polite, and attentive. If you would like to discuss your needs with one of our local Raleigh, NC vinyl replacement window specialists, give us a call right now at 919-827-8789.