The Leading Provider of Composite Wood Windows & Replacement Windows in Raleigh, NC
We would be glad to help if you are interested in composite wood windows as a Raleigh, North Carolina homeowner. This Wake County city provides residents with a very high quality of life, and the experts have certainly taken notice. Over the last several years, it has appeared on many lists of the best places in live in the United States. In fact, in 2015 Forbes Magazine recognized the "City of Oaks" as the fifth most desirable city for people that are raising families.
We are proud to call Raleigh home, and we provide service all over town, from Lynn Crossroads to the Auburn/Emerald Village area and everywhere in between. Simply put, for composite wood windows in Raleigh, NC, HomeCraft is the only way to go.
Consider the Benefits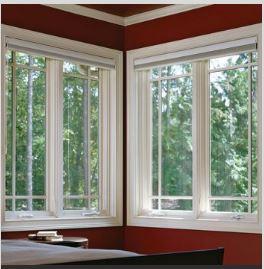 Vinyl windows have been widely utilized over recent years. Because they are not susceptible to rotting, they are very durable, and there is no maintenance required. At the same time, you have to sacrifice the classic look that you get with wood windows, so there is a trade-off.
Manufacturers and window companies have been well aware of this conundrum for years. They recognized the fact that the marketplace was ripe for a new material that could provide the best of both worlds. Composite wood windows have been developed to fill this void.
With the composite wood windows Raleigh, North Carolina homeowners can get from us, you don't have to make any compromises. These windows provide the natural beauty of wood, but they are hassle-free like vinyl windows.
Composite wood windows are extremely energy efficient, because the material is better for reducing thermal transfer than wood or vinyl. Plus, we offer high performance glass to add to the energy savings. Ultimately, the lower heating and cooling bills will offset the cost of the new windows.
Speaking of cost, you will probably be pleasantly surprised when you find out how affordable they are, and installation charges are minimal. And if you would rather pay later or spread out your payments, we offer a number of different financing options for composite wood window purchases.
Get the Look and Feel of Wood Without the Maintenance!
If you would like to learn more, we are standing by right now to answer your questions and set up the next step if you decide to go forward. You can reach one of our Raleigh, North Carolina composite wood window consultants at 919-241-5259.