Patio Doors and Sliding Glass Doors in Cary, NC

Patio doors are a useful and functional component of homes and businesses. Acting as windows to the outdoors, patio doors increase the light of your indoor space and improve ventilation for you and your guests. If you're not completely satisfied with your patio doors, or your patio door is old and outdated, then it may be time to call a professional for a patio door replacements.
At HomeCraft Windows our team of professionals helps you find the right patio door for your needs. From sliding glass door styles to custom patio door designs, we present you with various patio door options for your Cary home or business.
Sliding Glass Patio Doors in Cary
If your sliding glass patio door needs to be replaced then it will let you know. While it may be difficult to understand the signs on your own, there are a few tell-tale signs that it's time to contact a professional for a new patio door installation. Such signs include:
Visible Damage– The presence of cosmetic damage to your patio door can leave your home or business looking dingy and in need of updating. If you're trying to make a good impression or you're just tired of looking at scrapes and chipped paint, then you may need to replace your sliding glass patio door.
Difficulty Opening Door– If your sliding glass door isn't sliding properly then it may be time for a replacement. Such signs may include increased effort getting your door open, or loud noises when sliding open your patio doors.
Water Intrusion – The presence of water is one of the most obvious signs that it's time to replace your sliding glass patio door. If you see increased levels of moisture around your door or water dripping down the sides, then you need to replace your patio door immediately.
Gaps Around Door– Your patio door should fit snugly within its frame. If your patio door has visible gaps around the edges, then your home is at risk of infestations and break-ins that can be much more costly than replacing your patio door.
Sliding Glass Doors in Cary, North Carolina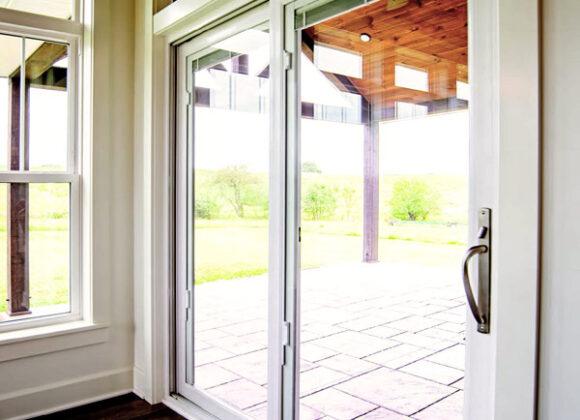 Cary, North Carolina is the perfect combination of natural beauty and modern charm. As one of the largest areas of the state, Cary is full of residents from all walks for life that call Cary home. Whether you're looking for work, wanting to start a family, or hoping to enjoy retirement in a suburban setting, Cary has exactly what you're looking for!
At HomeCraft Windows we are proud to help homeowners and businesses in Cary, NC, and the surrounding areas find the right sliding glass doors solutions at the right price. Equipped with a broad selection of styles to choose from, we present you with quality sliding glass patio door options such as ProVia entry doors, Aspect patio doors, Designer patio doors and so much more!