With many residences in the area starting to age, homeowners often contemplate: Does it make financial sense to replace, rather than repair our windows? The answer: a clear YES. Here are 8 reasons why: Let's break these down and take a good hard look at why you should consider and move forward on this investment.
Get More Value Gains with Energy Efficiency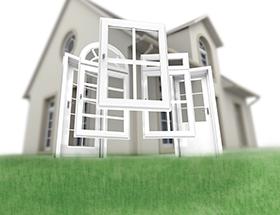 Many older homes have the original windows built with single-pane glass. Original windows built with single-pane glass often freeze open or shut. They feel icy-cold to the touch. With heating and cooling costs on the rise, replacing aging, drafty windows with efficient, tight-fitting ones can have a big impact on your energy bills. You can increase the added-value of new windows by choosing energy efficient features. The U.S. Department of Energy reports: windows are responsible for 25% to 30% of a home's heating and cooling use. Today's technology offers argon gases between panes and unique thermopane integration. Many offer features like heat-reflecting love-E coatings.
There are a few different ways that manufacturers create more energy efficient windows, and you may see a variety of these features at once:
By upgrading to energy efficient windows, you can save $125 to $340 a year on energy costs says Energy Star, which is a considerable gain—especially over time
Ultraviolet rays entering through windows and patio doors can lead to fading of furniture, carpet, window treatments and artwork. These and other materials, especially ones with organic fabrics, are susceptible to fading when exposed to sunlight. Upgrading your windows to more energy efficient products can potentially reduce fading and extend the life of your belongings. Most replacement windows are available with glass that blocks up to 95% of the sun's ultraviolet rays that can cause fading. exposure to sunlight.
Dramatically Eliminate Noise Inside Your Home
If you live near an airport, in an urban area, near a school, or a busy street, noise can be at a high level in your house. Replacing your windows with dual-pane or a laminated glass can reduce the outside noise transmission into your
Reduce Frost and Condensation
The weather conditions outside your home should not appear on the inside. Inefficient windows can leak, allowing water to come into your house both in front of and behind the walls—a leading cause of mold and mildew in homes. Aging windows or patio doors often leak air, resulting in high energy bills during peak heating and cooling months.
Aesthetics are Important – Increase Curb Appeal
Along with landscaping, new kitchens & baths, and built-in cabinets, windows & doors are important architectural features. The key to replacement, however, is to keep within the style and/or period of your home overall. You wouldn't want to install an ultra-sleek casement window in a home built in the early 1900s. In addition, make sure that you keep the level of replacement in line with the value of the home. Should you replace with an inferior product, you will naturally reduce the aesthetic and the value of the house. Do the research and take the time to match the look of the original windows—using wood veneer rather than vinyl to replace existing wood and matching the divided light pattern (the number of panes in each window) from the originals.
Increase Safety and Security
Is everyone in your household able to open and close the windows? If the windows are hard to open, get stuck in the up or down position, or won't open in and out of place, it can pose a serious danger, especially in the event of a fire. This alone is a good reason to replace the windows in your home.
Easy Maintenance Clean Windows with EASE
Old double-hung windows had to be cleaned from both the inside and the outside. New double-hung windows feature tilt-in sash designs, which means the exterior glass can be cleaned from inside by tilting the sash inward for easy access. In addition, if you are replacing wood windows, you can eliminate the periodic painting and sanding that must done to protect wood from rotting.
In addition, many older windows required the installation of storm windows to create a heat and moisture barrier. This activity is not only time-consuming, but often challenging – mainly in multi-level homes.
MOST IMPORTANTLY – YOUR INVESTMENT
Homeowners get about 73% of their replacement window investment back when they resell the house, according to the National Association of Realtors' 2016 Cost Versus Value study.
A $10,000 expenditure on new windows can bump up an asking price on a house about $8,500, according to ISoldMyHouse.com, for an 85 percent ROI.
Besides boosting your home's beauty, replacement windows offer a multitude of benefits such as climate/temperature control for comfort, noise reduction, better protection for your furnishings from fading, less maintenance, and adds to your home investment.