Advantages of Double Hung Windows for Window Replacement in Raleigh, Durham, Chapel Hill, Apex, NC, and the Surrounding Areas
Frequently Asked Questions
Q: Why are double-hung windows so popular?
A: If you're looking to replace the windows in your home with those that are easier to maintain and clean and significantly enhance your home's curb appeal, consider double-hung windows. The popularity of double-hung windows in Chapel Hill, Durham, Raleigh, Apex, NC, and the surrounding areas is no surprise.
These windows can match any home style. They offer several other advantages over other window replacement options, including:
They are user-friendly because both sashes can open.
They are easy to clean; you can easily wipe both sides of the window.
There are various design options and grille patterns to choose from to enhance your home's appearance.
These windows provide excellent ventilation since air can travel through both sashes.
To enjoy these benefits, contact HomeCraft Windows for high-quality double-hung replacement windows in Chapel Hill, Durham, Raleigh, Apex, NC, and the surrounding areas.
Q: What is the difference between double-hung and single-hung windows?
A: The main difference between these window types is the ability to move the sashes. For double-hung windows, the upper sash and bottom sash are both operable. On the other hand, a single-hung window has only one operating sash.
Single-hung windows are usually less expensive than their double-hung counterparts since they only have one sash that moves.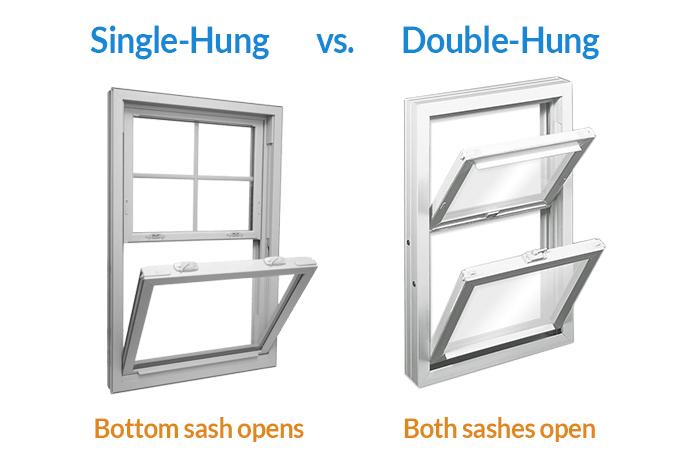 Q: What types of windows are easiest to clean?
A: Easy cleaning is one of the notable advantages of double-hung windows. That's because you can tilt and open them in several ways. This is essential if you want your home to look professional and beautiful year-round.
This attribute makes double-hung windows an excellent choice for those who don't like to hire window washers or get tired of trying to keep their windows clean and attractive.
Q: What sizes do double-hung windows come in?
A: Like all window types, custom sizes are available in double-hung style windows. Double-hung windows also come in several standard heights, ranging from 36-72 inches. These include:
36 inches
44 inches
52 inches
54 inches
62 inches
72 inches
Their widths also range from 24-48 inches, with standard sizes including:
24 inches
28 inches
32 inches
40 inches
48 inches
As one of the most trusted window replacement companies, HomeCraft Windows also offers custom-sized double-hung windows to suit our customers' varying needs in Chapel Hill, Durham, Raleigh, Apex, NC, and the surrounding areas.
Contact us today to schedule a free consultation if you are ready to improve your home's curb appeal, value, and energy efficiency with double-hung windows.