Bow and Bay Windows in Knightdale, NC
Not all of the windows in your home need to be boring and flat. A well-placed bow or bay window can boost the visual appeal of your home while increasing its value, natural light, and airflow at the same time.
If you're interested in the benefits bow and bay windows can provide, give HomeCraft Windows a call today. Our home improvement experts are happy to talk about your questions, concerns, and the window options that suit your Knightdale, NC, home.
Bow Windows in Knightdale, NC
The bow window is the more modern version of the bay window, and while a bow window works and looks slightly different, it provides all the same benefits as its bay cousin. As the name suggests, a bow window "bows" out from your home, creating a round area to sit, eat, or just enjoy the view.
You need four to five separate window panes to create a full bow window. These panes can be double-hung windows, casement windows, or fixed windows. You can choose different materials to suit your needs, such as wood windows for a historical appeal or vinyl windows for easy cleaning.
Bay Windows in Knightdale, NC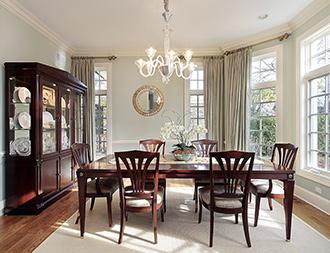 You've probably seen a bay window in someone's home before (or potentially even wished for your own). A classic bay window uses three separate sections, which come together to create a trapezoid-shaped space extending from your home's exterior. Some bay windows are purely decorative with fixed windows for low maintenance, while others can open and close for increased airflow.
Every bay window that HomeCraft Windows produces has Low-E coatings and argon or krypton gas fillings to promote better temperature regulation. Plus, this all comes in a package designed to last for decades. Don't think of a bay window as an expensive upgrade — think of it as an investment in the future of your family and your home.
About Knightdale, NC
While Knightdage itself is a relatively small town, as a part of the greater Raleigh, North Carolina area, it certainly doesn't feel like it. As the town continues to grow, attractive and functional homes will see high demand. Since Knightdale is a relatively affluent area, upgrades that boost your home's appeal and historic charm will become even more valuable over time.
If you're looking to install bow and bay windows in Knightdale, NC, or the surrounding areas, contact HomeCraft Windows today to set up an appointment. Call us at 919-276-5400 today or leave a message on our website to get started.