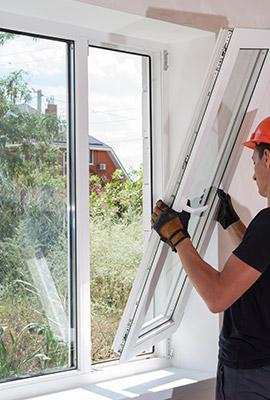 Home Window Installation Raleigh, NC
We all need replacement windows every once in a while. Whether you recently broke a window or are looking to upgrade, the world of new window installation can be daunting. With so many options, how do you know which ones to choose?
HomeCraft Windows specializes in installing new residential windows to homeowners in Raleigh, NC. Our ties to the region run deep, and we've worked on every type of home in the Raleigh area. The difference between us and other window retailers in North Carolina is the quality and variety of products we offer. We can install double-hung windows, garden windows, picture windows, and more!
Home Window Replacement and Custom Window Installation in Raleigh, NC
There are several reasons why you may decide to install new residential windows. The main reason is leaking. When you think of leaks, the first thing that probably pops in your head is water or gas. However, air leaks can cost you just as much.
A small opening in your window can cost you just as much as leaving an entire window open in your home. That's why we ensure our windows seal properly. We install new windows in a way where air cannot permeate your Raleigh home.
Our contractors don't only address your window needs but also suggest ways to save you money in the future. Creating energy-efficient homes is always on our minds. Because of the climate in Raleigh, it's easy for your energy costs to skyrocket. With properly installed windows, you will conserve a lot of energy.
Window Replacement Companies in Raleigh, NC
Our installation process is easy and hassle-free. We'll safely remove your old window, install a new one, and properly insulate it. Then, we'll complete the job by taking care of the interior and exterior trims.
We pride ourselves on delivering an efficient, expedited installation process. Our contractors finish most home window installations in Raleigh within one business day. Plus, we provide complimentary clean-up services, never leaving a mess in our wake. And we'll discard your old windows for you!
Custom Window Replacement Raleigh, NC
HomeCraft Windows proudly serves Raleigh and its surrounding communities. As North Carolina's capital, Raleigh boasts thousands of vital businesses, many of which are in the tech sector. Known as part of the "Research Triangle," the area hosts top educational institutions such as North Carolina State University and the University of North Carolina.
We work with Raleigh homeowners to find a low-cost solution to their window needs. Set up an appointment for a free quote by contacting us today!